We have the best equipment for daily, weekly, monthly rentals, or for more extended hire periods/long-term leases available throughout North America.
 A walk-through metal detector or Search Arch is the perfect solution when you need to scan volumes of people quickly and efficiently for concealed weapons or other metal objects.  A familiar feature at airports and other sensitive buildings these highly efficient metal detectors are now found at entrances to television studios, sporting events, religious events, festivals, shareholder meetings, corporate events, employment terminations, plant closings, and/or downsizings.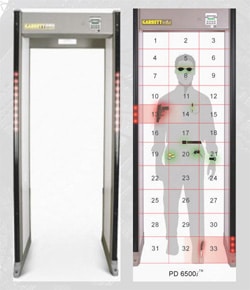 Search Arch units offer a full head to toe scan area and so can detect metallic objects concealed on any part of the body, from head to toe, on a single pass through.
 A multi-zone detection grid pinpoints precisely where the detected object is on the person passing through the search arch while the indicator lights on the exit side of the archway show you whether the object is on the left, right, or central vertical and at what height.
The sensitivity of the versatile search arch can be set to pick up almost any metal object passing through it.  It can also be configured to pick up critical metal mass such as guns or knives but to ignore smaller items, such as keys, to minimize false alarms in queue situations.
 We offer set up and take down, full running with operators, or equipment alone with customer operators.  Service nationwide!  We have many units in stock and ready for fast service!
Hand Wand
For smaller events and venues, we have the hand wand.  These are not cheap knock-offs that are not as reliable or as efficient.  These hand wands are easy to use and can find ferrous and non-ferrous weapons.

We can teach security staff search techniques in a very short time enabling them to use the Wand effectively.
Key features of the Wand include:
Self-calibrating – digital microprocessor technology eliminates the need for periodic sensitivity adjustments.
The elongated profile provides detection coverage plus tip pinpointing for easy scanning from head to foot.
Easy and convenient to use with one-touch button and three-color LED lights: Green LED light indicates ON, Amber LED light indicates LOW BATTERY, and Red LED light indicates ALARM.
Clear audible or Silent/Vibrate LED alarm signal.
Rugged injection molded construction including a structurally isolated coil for added impact absorption.
The Ergonomically designed grip fits comfortably in virtually any size hand.
Easy ON/OFF battery cover: standard 9V battery included with an optional rechargeable battery kit available.
Power switch and LEDs positioned for easy access and high visibility.
For a competitive quote, please contact us with your needs and we can help you without breaking the bank!  We offer direct rental with complete set-up and dismantle, and security professionals to operate or to train your staff to operate the equipment.